---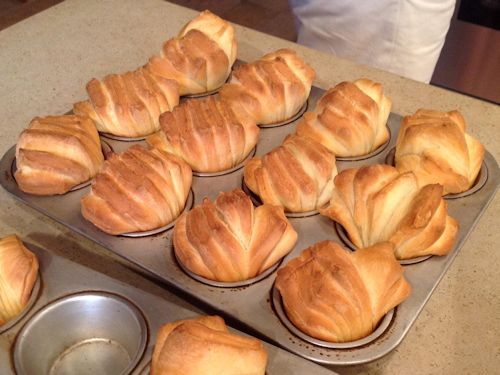 ---
Fan Tans
A traditional part of a Thanksgiving or Christmas Day meal!

Comments and Modifications:
(a) Pre-heat oven to 375 degrees Farenheit.
(b) Use only 2 Tablespoons of sugar (4T makes the dough too sweet).
(c) Melt (salted) butter, and then use a pastry brush to spread butter on each of the first six strips before placing the next strip on top. This enhances the flavor and ensures that it is easy to pull "chips" off the Fan Tans after baking.
(d) Place a large cotton dish towel in a bowl, tumble the Fan Tans gently into the towel, fold the ends of the towel over to cover the Fan Tans, and they will stay delightfully warm at the dinner table.

From The Gourmet Cookbook (Volume I), (c) 1950, Gourmet, Inc.
---

Last updated Thursday, December 26th, 2013.
© 1997-2017 slivka.com. All rights reserved.