August 21-28, 2011: Alaska Trip

Ben and Nate enjoyed several meals with Alex and Susan in Anchorage before and after the Backroads Alaska Biking Tour (detailed itinerary).

We met our Backroads group in Anchorage on Monday, rode clockwise from Palmer, AK, around the Chugach Mountain Range to Valdez, then boarded the high-speed ferry to Whittier, and shuttled to the Alyeska Hotel for another day of light riding before returning to Anchorage on Saturday.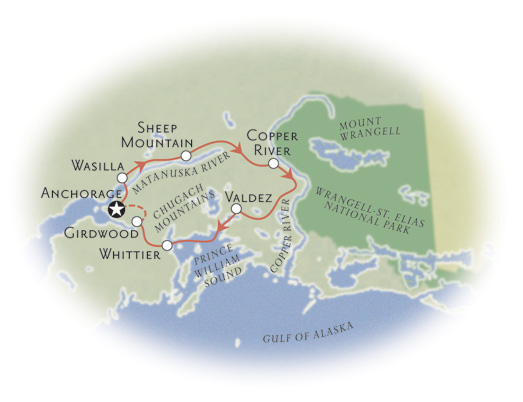 Day
Miles
Hours
Feet of
Climbing
Max
MPH
Avg
MPH
Cum
Miles
Cum
Hours
Cum
Feet
Mon
47.2
3.7
4,250
45.4
12.6
47.2
3.7
4,250
Tue
76.3
6.3
5,140
44.8
12.1
123.4
10.0
9,390
Wed
83.2
6.1
2,101
42.9
13.6
206.7
16.2
11,491
Thu
107.2
7.8
4,765
43.9
13.7
313.8
24.0
16,256
Sat
34.9
2.7
1,331
34.3
13.1
348.7
26.6
17,587
total
348.7
26.6
17,587
---
Trip highlights: Dinner with Alex at the Spenard Roadhouse followed by a 2.5 hour (8.4 mile) walk along the Tony Knowles Coastal Trail and back to the Captain Cook Hotel with the sun setting, the long climb up to Independence Mine State Park followed by a screaming descent back to Wasilla, a lovely dinner of salmon at the Sheep Mountain Lodge accompanied by a bottle of 2008 Terrazas de los Andes Malbec Reserva and Q&A with five-time Iditarod musher Zack Steer and 2012 rookie Iditarod musher Anjanette Steer, a glorious halibut chowder and halibut sandwich at Mendeltna Creek Lodge, a roaring campfire and picnic lunch at Blly Mitchell Campground, riding by the Worthington Glacier, reaching the top of Thompson Pass after 77 miles and then screaming downhill for 10 miles in the rain, riding 266 miles in 3 days on the Glenn Highway and the Richardson Highway to circle (clockwise) the Chugach Mountain Range from Palmer to mountain and glacier-ringed Valdez, riding by the Bridal Veil Falls, breakfast at the Fat Mermaid in Valdez, the smooth ~3 hour, 40 knot voyage on the high-speed ferry Chenega from Valdez to Whittier, driving through the Whittier Tunnel on schedule, staying at the beautiful Hotel Aleyska, enjoying yet more fish for dinner at Jack Sprat accompanied by a bottle of 2005 Silver Oak Napa Valley Cabernet Sauvignon and a glass of 1982 Bodegas Toro Albala Montilla-Moriles Don PX Gran Reserva, dinner with Alex and Susan at Sacks Cafe and Restaurant accompanied by a bottle of 2004 Louis Roederer Champagne Cristal Brut, homemade waffles by Susan, the paintings of Sydney Laurence at the Anchorage Museum, and having one last meal of salmon at Humpy's Great Alaskan Alehouse in the Anchorage airport before flying home.

























---
Note: There are 1,025 pictures, with 99,932,611 bytes of thumbnails and 2,529,810,828 bytes of full-size pictures.
---
| | | |
| --- | --- | --- |
| Sun | Aug-21 | SEA->ANC, Spenard Roadhouse, Captain Cook Hotel |
| Mon | Aug-22 | Backroads Day 1: 47.2 bike miles, shuttle to Palmer, Independence Mine State Park, Wasilla, Lake Lucille Inn, Settlers Bay Lodge restaurant |
| Tue | Aug-23 | Backroads Day 2: 76.3 bike miles, Matanuska Valley, King Mountain, Sheep Mountain Lodge |
| Wed | Aug-24 | Backroads Day 3: 83.2 bike miles, Mendeltna Creek Lodge, Richardson Highway, Copper River Princess Wilderness Lodge |
| Thu | Aug-25 | Backroads Day 4: 107.2 bike miles, Best Western Valdez, THC On The Hook |
| Fri | Aug-26 | Backroads Day 5: Fat Mermaid, Ferry to Whittier, Girdwood, Alyeska Resort, Jack Sprat restaurant |
| Sat | Aug-27 | Backroads Day 6: 34.9 bike miles, Indian Creek, Anchorage, Captain Cook Hotel, Sacks Restaurant |
| Sun | Aug-28 | Brunch, Anchorage Museum, ANC->SEA |

Last updated Saturday, September 8th, 2012.
© 1997-2023 slivka.com. All rights reserved.